APHID CITY GYM LEADER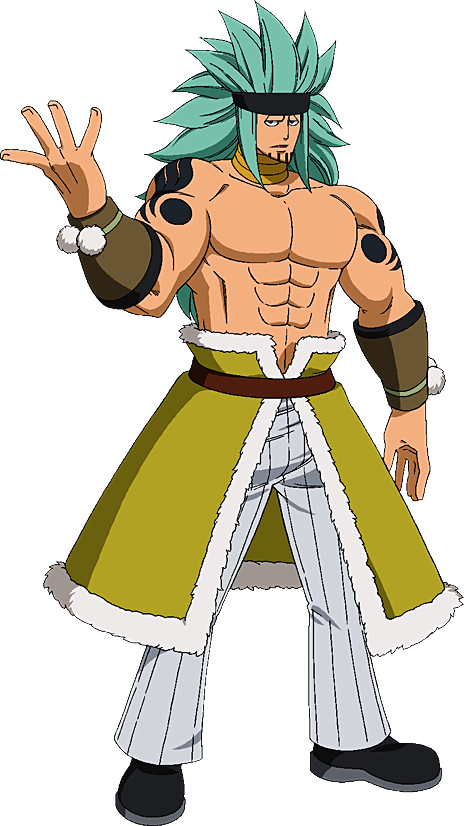 NAME:
Flint
SURNAME:
Barrow
AGE:
32
GENDER:
male
APPEARANCE:
A very tall and muscular man with sun tanned skin and long, green hair. He tends to walk around shirtless, exposing his heavily tattooed arms. He wears a black bandana on his head, brown bracers, white pants and black boots. In winter he wears a small sand coloured cape, but instead of having it over his shoulders he tends to attach it to his waist because the can't get used to the warmth on his back.
PERSONALITY:
Flint is as Jolly as they come. his loud belly laugh often catches aspiring competitors off guard as they meet him in the Gym or around the city, and he is altogether a very outgoing and happy man. His overly firm handshake is the talk of the city and he seems to know and get along with everyone he meets famously.
BACKSTORY:
Flint often spends his weekends driving around Aphid city on his riding lawnmower. He really is quite the sight hunched over on his tiny lawnmower car, waving loudly at passers by and stopping regularly to engage in conversation with the natives. Flint was one of the people who championed the building of the Pokemon ranger headquarters in Aphid city, having been a ranger himself in his younger years. Flint eventually deviated from the path of the ranger after having formed many bonds with many Pokemon he decided to commit himself to his closest Pokemon friends.
BADGE:
REWARD:
Once you defeat him you get either 50 pokedollars and a gym badge or the chance the roll a mega stone / Z crystal die.
TEAM:
These are the pokemon he will use, their attacks and their weaknesess.
They must be summoned in the order stated below:
---


♀ Torterra (Grass / Ground) - 50 health points

Attacks she will always use to get +5 damage bonus:
Will use Giga Drain & Leaf storm (Grass) against Water / Ground / Rock pokemon.
Will use Crunch (Dark) against Psychic / Ghost pokemon.
Will use Earthquake (Ground) against Fire / Electric / Poison / Rock / Steel pokemon.

Attack types that will cause her +5 damage:
Fire / Flying / Poison / Ice / Bug



---



♂ Lileep (Rock / Grass) - 30 health points

Attacks he will always use to get +5 damage bonus:
Will use Ancient Power (Rock) against Fire / Ice / Flying / Bug pokemon.
Will use Acid (Poison) against Grass / Fairy pokemon.
Will use Energy Ball (Grass) against Water / Ground / Rock pokemon.
Will use Astonish (Ghost) against Psychic / Ghost pokemon.

Attack types that will cause him +5 damage:
Water / Grass / Fighting / Ground / Steel



---



♀ Trevenant (Ghost / Grass) - 40 health points

Attacks she will always use to get +5 damage bonus:
Will use Horn Leach & Wood Hammer (Grass) against Water / Ground / Rock pokemon.
Will use Shadow Claw (Ghost) against Psychic / Ghost pokemon.
Will use Feint Attack (Dark) against Psychic / Ghost pokemon.

Attack types that will cause her +5 damage:
Ghost / Dark



---



♀ Lotad (Water / Grass) - 30 health points

Attacks she will always use to get +5 damage bonus:
Will use Absorb (Grass) against Water / Ground / Rock pokemon.
Will use Bubble Beam (Water) against Fire / Ground / Rock pokemon.
Will use Astonish (Ghost) against Psychic / Ghost pokemon.
Will use Zen Headbutt (Psychic) against Fighting / Poison pokemon.

Attack types that will cause her +5 damage:
Grass / Electric



---



♂ Cacturne (Grass / Dark) - 40 health points

Attacks he will always use to get +5 damage bonus:
Will use Needle Arm (Grass) against Water / Ground / Rock pokemon.
Will use Sucker Punch (Dark) against Psychic / Ghost pokemon.
Will use Pin Missile (Bug) against Grass / Psychic / Dark pokemon.
Will use Revenge (Fighting) against Normal / Ice / Rock / Dark / Steel pokemon.
Will use Poison Sting (Poison) against Grass / Fairy pokemon.

Attack types that will cause him +5 damage:
Fire / Flying / Poison / Ice / Bug



---



♂ Mega Venusaur (Grass / Poison) - 60 health points

Attacks he will always use to get +5 damage bonus:
Will use Solar Beam & Petal Blizzard (Grass) against Water / Ground / Rock pokemon.

Attack types that will cause him +5 damage:
Fire / Flying / Poison / Ice / Bug


Similar topics
---
Permissions in this forum:
You
cannot
reply to topics in this forum