MAYFLY CITY GYM LEADER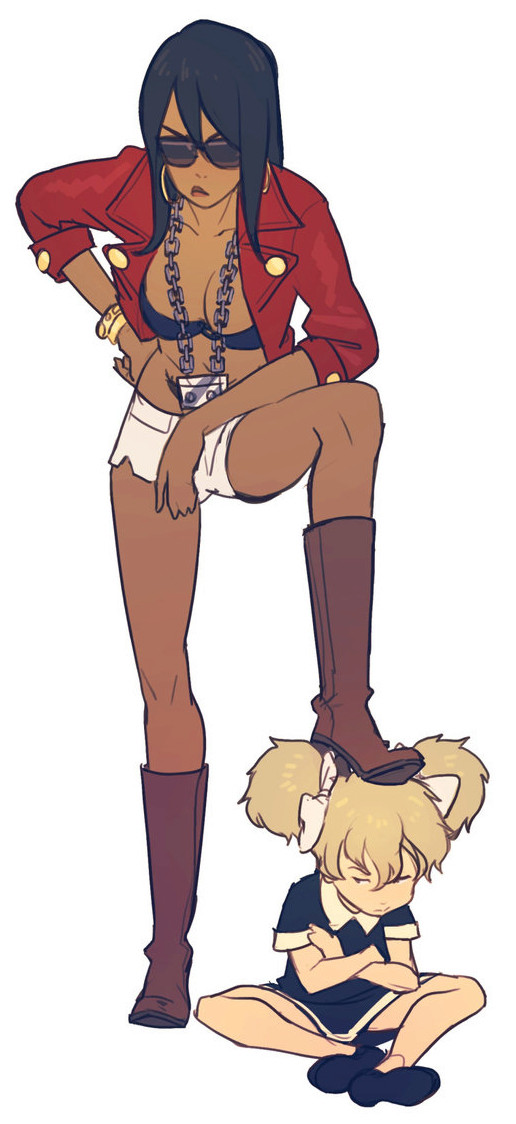 NAME:
Veronica
SURNAME:
Wright
AGE:
26
GENDER:
female
APPEARANCE:
Veronica tends to frown at people a lot. She very much likes to square up to people she doesn't know and assert dominance over them in some way shape or form.
PERSONALITY:
Veronica likes to be in control. She teases her adoptive sister, Petal, frequently and this is really the most affectionate she gets. With strangers she is all the more abrasive, and often actively mocks male competitors of her gym. She is somewhat cocky and carries herself with a real sense of self-importance.
BACKSTORY:
Veronica dislikes men. She thinks they're stubborn fools who quite frankly hold up the world from developing into an altogether more well rounded place. Veronica left home early, intent on finding herself a foothold in the wide world without relying on the stepping-stone of parental love and care. Instead Veronica chose to fight tooth and nail to the top. Veronica believes in hard work and her philosophy has become the staple of her Gym in Mayfly City. Rumors say the previous leader was a Guy who scorned Veronica, and so in return she chased him off the continent by having her Miltank use rollout to herd him into a one way ferry trip to Hoenn. These days Veronica can often be seen teasing her adopted sister Petal, of whom she lets stay with her in the Gym.
BADGE:
REWARD:
Once you defeat her you get either 50 pokedollars and a gym badge or the chance the roll a mega stone / Z crystal die.
TEAM:
These are the pokemon she will use, their attacks and their weaknesess.
They must be summoned in the order stated below:
---


♀ Miltank (Normal) - 30 health points

Attacks she will always use to get +5 damage bonus:
Will use Rollout (Rock) against Fire / Ice / Flying / Bug pokemon.
Will use Zen Headbutt (Psychic) against Fighting / Poison pokemon.
Will use Wake-Up Slap (Fighting) against Normal / Ice / Rock / Dark / Steel pokemon.

Attack types that will cause her +5 damage:
Fighting



---



♀ Ursaring (Normal) - 40 health points

Attacks she will always use to get +5 damage bonus:
Will use Hammer Arm (Fighting) against Normal / Ice / Rock / Dark / Steel pokemon.
Will use Feint Attack (Dark) against Psychic / Ghost pokemon.
Will use Lick (Ghost) against Psychic / Ghost pokemon.

Attack types that will cause her +5 damage:
Fighting



---



♀ Girafarig (Normal / Psychic) - 30 health points

Attacks she will always use to get +5 damage bonus:
Will use Zen Headbutt & Psychic (Psychic) against Fighting / Poison pokemon.
Will use Assurance (Dark) against Psychic / Ghost pokemon.
Will use Astonish (Ghost) against Psychic / Ghost pokemon.

Attack types that will cause her +5 damage:
Fighting



---



♀ Snorlax (Normal) - 40 health points

Attacks she will always use to get +5 damage bonus:
Will use Crunch (Dark) against Psychic / Ghost pokemon.
Will use Rollout (Rock) against Fire / Ice / Flying / Bug pokemon.
Will use Heavy Slam (Steel) against Ice / Rock / Fairy pokemon.

Attack types that will cause her +5 damage:
Fighting



---



♀ Slaking (Normal) - 50 health points

Attacks she will always use to get +5 damage bonus:
Will use Hammer Arm (Fighting) against Normal / Ice / Rock / Dark / Steel pokemon.
Will use Feint Attack (Dark) against Psychic / Ghost pokemon.

Attack types that will cause her +5 damage:
Fighting

*IMPORTANT: Slaking has a Normalium Z equiped (Z Crystal). Her first move will be 'Breakneck Blitz' and recieve a +5 damage bonus. The Z crystal can only be used once.



---



♀ Pidgeot (Normal / Flying) - 50 health points

Attacks she will always use to get +5 damage bonus:
Will use Air Slash & Hurricane (Flying) against Grass / Fighting / Bug pokemon.
Will use Twister (Dragon) against Dragon pokemon.

Attack types that will cause her +5 damage:
Fighting


Similar topics
---
Permissions in this forum:
You
cannot
reply to topics in this forum